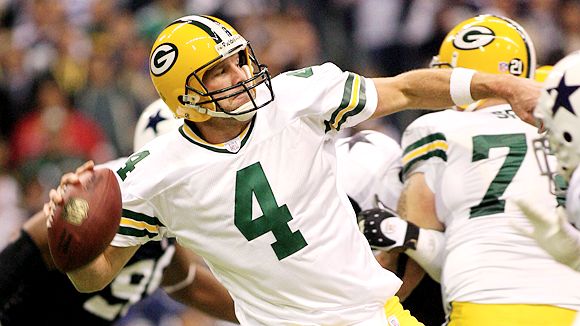 16 years is a long time, even a octogenarian would agree. There's too much to say here without producing an enormously long post, so I'm going to go with bullet points, in the style of Larry King's legendarily awful USA Today columns.
- First, I feel slightly wistful. Brett was a paradigm-shifting player for the Packers, leading what was the NFL's backwater to heights many had thought were unreachable. As all the commentators beat to death, he was everything you loved about sports-- the explosions of utter brilliance, the frightening raw talent, the hilarious improvisation, the passion, determination, and grit, the pure love of competition. But he was also a complex and flawed person, just like everyone else--- mistake prone, addictive, hardheaded, a bit self-centered, ruled by emotions. The last few months showed us this more unflattering side, but I'm confident our collective memories will fade and the bitterness between him and the current management will ease. He'll be back at Lambeau, waving to a standing ovation with tears in his eyes before you know it. He'll always be ours.
- Second, the trade itself. At first blush, a fourth-rounder seems like paltry compensation. Then you realize that unless Favre gets injured, with only Kellen Clemens as his competition, Brett will certainly do enough to trigger the escalator (50% of snaps) to a third-round pick. The esclator to a second round pick seems possible too (70% of the snaps and a playoff berth), as the Jets appear capable of making the playoffs with Fave at the helm. Still it seems oddly low. Maybe what this level of recompense indicates is that the Packers were right about his value. Maybe Favre's time has come and gone.
- But then third, you have to wonder, what the hell were other NFL teams thinking? Why not take a stab at getting Favre? Arizona is more comfortable with a washed up Kurt Warner and an ineffective Matt Leinart? San Fran is psyched about Alex Smith and/or Shaun Hill? KC can't wait for Brodie Croyle? Carolina loves the gimpy Jake Delhomme? Houston feels comfortable with Sage Rosenfels and Matt Schaub? Bizarre. He may not be a guy who can carry an offense-dominated team to the Super Bowl anymore, but he's got to beat the pants off most of these guys. Plus, you have to feel the media circus that would follow Favre would also be accompanied by an increase in buzz, season ticket subscriptions, and merchandise sales.
- Fourth, I'm concerned about Favre's prospects on the Jets. NYJ added guard Alan Faneca in the offseason, but their high-draft pick LT, D'Brickashaw Ferguson, has struggled pretty badly. I have no idea who their running back/s is/are. And main wideouts Jericho Cotchery and Lavernius Coles are both undersized guys. Favre tends to do better with bigger targets like Sharpe, Walker and Driver. Plus, the Jets don't run a West Coast offense, as far as I know. Can an old dog learn new tricks this quickly? And you have to figure he'll have some problems in the two Pats games this season-- Bellichik is just too tricky. I guess he'll have Bubba as a security blanket? Anyhow, I'm worried he's going to bellyflop and that it could get really ugly really fast in New York. If he does well though, like Montana with the Chiefs, it would cement him as a national icon. His marketing potential would grow to even greater heights. Personally, my hard feelings are aside now. I know I'll be pulling for him.
- Fifth and finally, big sigh of relief. I hope Rodgers, McCarthy and the rest of the Packers can get back to playing football. I hope this colossal distraction won't throw off the team's performance. I hope Ted gets back to scouring other teams' training camps, looking for likely-to-be-cut DTs. I hope the irrational and cruel booing of Rodgers stops. At least until he actually deserves it.