It's getting down to it now. Just about one week until the UW opener against the mighty Akron Zips. But ignoring the underwhelming nature of that match-up, I am pretty excited for this season. UW will enter the season ranked 12th and 13th in the two major polls.
They have four of five offensive linemen returning, with last year's weakest link leaving.
They have an apparently healthy PJ Hill, Zach Brown, John Clay, Chris Pressley, and Bill Rentmeester in the backfield. The Badgers at long last have a starting quarterback that looks, runs, and throws like a starting quarterback, with transfer Allan Evridge finally primed to represent. Right, and the offense has the best pair of tight ends in the nation in Garret Graham, who was great last year even while playing on an injured shoulder, and the fantabulous Travis Beckum. The wideouts are green, yes, but there's some talent there, and they won't have to be dominant for the offense to excel.
The defense appears to be rounding into shape after a ton of health problems in the Spring, though last year's defensive frosh of the year, corner Aaron Henry, may miss some more time this season due to a recent surgery to clean up his meniscus.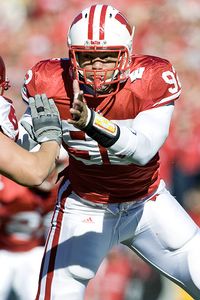 If the returning/recuperating D-linemen (Chapman, Newkirk, Shaughnessy, DeCremer) recover their previous form, and the new additions like Jeff Stehle, Juco transfer Dan Moore, O'Brien Schoenfield, frosh Brendan Kelly, and third-down rusher Louis Nzegwu, make some solid contributions, the defensive line could be excellent. Even with the back two legs of the Shaughnesillas, linebacker Jonathan Casillas, potentially missing the opener with an MCL sprain, the linebacker corps looks deep and talented. One of last year's standout frosh, Blake Sorensen, is manning Casillas's weakside spot, and should do a solid job. DeAndre Levy should be excellent on the strong side, and my personal favorite, the speedy and wisely numbered Jae McFadden (#47) has wrested the MLB position from previous favorites Elijiah Hodge and Culmer St. Jean. McFadden's elevation is mirrored in the secondary where last year's previous weakest link, Pleasant, has been replaced by Texas jackhammer Jay Valai. Transfer and Racine native Chris Maragos looks like the instinctual type of player the safety spot was missing last season. With solid competition for the corner spots between Niles Brinkley, an apparently recovered (ACL) Allen Langford, and redshirt frosh Mario Goins, the defense should be pretty solid.
Plus, the Badgers have the number one punting recruit in the nation set to belt out blasts for them, and what looks like two decent kickers set to replace the illustrious Taylor Melhaff by committee. So generally, things look alright personnel-wise.
The main questions may be more strategic and schematic. Can the defense defense the spread more effectively this season? McFadden's and Valai's insertion, as well as the naming of Dave Doeren as the D-coordinator, were likely part of the effort to turn this problem around. Will UW be able to run the ball at least somewhat effectively against top tier defenses this season? Last year, against talented defensive fronts like OSU, PSU and Illinois, the running game didn't do much (although the numbers were hampered by lots of negative sack yardage due to Donovan's inability to make quick decisions and poor pass blocking). A year's experience and improvement in the O-line, a heathy Hill (knock on wood), better talent and depth in the backfield, these things should all help. But we'll have to see. That will likely be the difference in what looks like tough match-ups against PSU, OSU, Illinois, at Michigan and at Fresno State.
And that brings us to the schedule, which is a combination of a few potential lightweights, but then a long stretch of tough games, but in somewhat favorable locales. Right now the toughest road games look like at Michigan, at Sparty, and at Fresno State at night in September. (Fresno is ranked in the top 25 and is picked to win their conference.) That doesn't seem so bad, particularly with Michigan in flux, and when compared to last season's games at PSU, OSU and the Fibs. And of course, there's the relative early season patsy line-up at home, if Marshall and Akron turn out to be iffy MAC teams, like they're predicted to be, topped off by cupcake central in Cal Poly San Luis Obispo. My prediction is the Mustangs (Cal Poly-SLO's team name) will be so darn cold in November in Camp Randall, they'll be eyeing the clock as soon as the second quarter starts. But think about this stretch-- at Fresno State, at Michiagn, home against OSU, home against PSU, at Iowa, home against the Fibs, at Sparty. Can I get a home game against Northwestern or Minnesota, or an away game against Indiana thrown into that stretch? Negatory. That is an NFL-like run of really tough games, and it's the biggest worry going into the season. Will the Badgers be able to hold up mentally in that demanding stretch of games? Will they be able to stay healthy? Will a loss in one game affect the team's psyche in another, like the loss at Illinois derailed the team next week at PSU last season? Will a solid win lead to overconfidence, and a stunning drop-off (like the at Sparty game in '04)?
It's hard to predict from here. So much of college football is luck and injuries, both on your own side and on other teams. I doubt UW beats Michigan at home last year with a healthy Henne and Hart playing. But I bet UW would have taken Illinois in Shampoo-Banana with a healthy Swan and Paul Hubbard. Then there are players who develop and suddenly become stars. It's so hard to predict. Such are the whims of fate in a college football season. But that's no reason not to be excited now. Heal up, back half of the Shaughnessillas, and bring on the Zips!