What do Tiger Woods, Thiery Henry and Roger Federer all have in common? Well, they're all world class athletes, they were all dominating their respective sports until lately (or in Henry's case, the last two seasons), and, suspiciously, were all featured in
this pretentious ad
for the "Gillette Fusion" razor.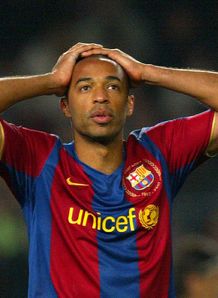 What's happened since that ad came out? Well, Thierry Henry, the prolific French goalscorer, was already in the middle of a downward cycle, one that probably indicates his career is waning. He missed the vast majority of the season for Arsenal in 2006-07, appearing in only 17 league games, as Arsenal's men's side went trophyless, failing to win the Premiership, the FA Cup, or make a serious run in the Champions League. He was then sold for a bargain basement price to Barcelona where he only scored 19 goals in 47 appearances, with Barcelona suffering a disappointing season, finishing third in La Liga, failing to make a run in the Copa del Rey, and getting eliminated in the Champions League by Man U (and not scoring in either of the two matches against Manchester). Plus, France just got knocked out in the first round of the Euro 2008, finishing dead last in their group, with Henry scoring their only goal of the competition. Ouch.
Now, Tiger's a brighter story, having just won the US Open in dramatic fashion. However, he had arthroscopic knee surgery in April this year, and missed two months of golf. He then rushed back for the US Open, and won in a playoff, then announced that he had a torn ACL, which had been torn for nearly 10 months, and had additional stress factures in his left leg, which he sustained while rehabbing from the April surgery. He's out for the rest of the 2008 season, and it's questionable whether he'll be back in time for the Masters next spring. This is easily the worst injury he's every head.
Then there's Roger. Unfortunately for fans of the Suisse tennis maestro, his reign as "Best Tennis Player in the World" seems to be at an end. After several years of unprecedented dominance, he has won only two tournaments this year, and has lost to Andy Roddick (for the first time since 2003), Mardy Fish, Radek Stepanek, in addition to what is now four losses to his Spanish nemesis Rafael Nadal, twice falling in finals of Grand Slams. Unless Federer wins the upcoming US Open, he'll have gone the entire season with no Grand Slam titles, a first since 2002. And he just lost his baby, Wimbeldon, an event he had won five straight times. A sixth win would have been the longest winning streak in the history of that tournament, but he came up short, looking tense and blowing his best shot early on, when he squandered a 4-1 lead in the second set, allowing Nadal to win five straight games to take an essentially insurmountable two-set lead.
What's the moral of this story? Maybe it's a parable about the problem of hubris. Endorsing a product by yourself (Federer endorses Rolex, for example) is one thing. But promoting yourself as a member of some exclusive fraternity of awesomeness, especially for the sake of an overpriced razor, well that's another. Fate comes around for us all, sooner or later.